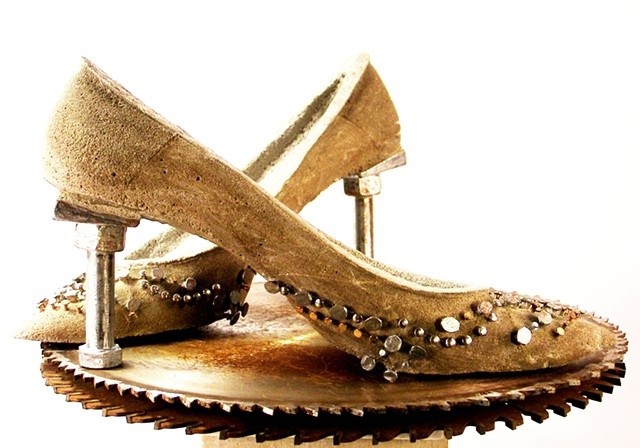 Kem Alexander, 1955, is a sculptor who lives and works in Chattanooga, TN. Kem graduated from the Memphis Academy of Arts/Memphis, TN in 1979 with a B.F.A. in painting. She began her journey and fascination with concrete in 2000 while pouring pier caps during the renovation of her house.
Kem and her work are featured in the AVANT Contract modular carpet design 2014 style book. www.avantcontract.com For the video click play in the middle of the shoe sculpture: www.avantcontract.com/web/forms/artisan…
Examples of her art and creative technique were published in Creating with Concrete and Creative Concrete Ornaments for the Garden both by Sherry Warner Hunter. Tennessee Public Television featured a segment of Kem's work on Tennessee Crossroads. One of Kem's concrete western boot-stitched barbed wire handled purses was included in the 2008 Art Quest Exhibit at the Frist Center for the Visual Arts, Nashville, TN.
Kem's sculpture "Saving the Best-For-Last, Wing Nut Lady Boots" was honored with the Best of Show award for the 2012 TACA Biennial: The Best of Tennessee Craft. The same piece was chosen by the Tennessee State Museum in Nashville as one of this year's museum purchase awards for the permanent collection.
Kem's work is available directly through her studio.